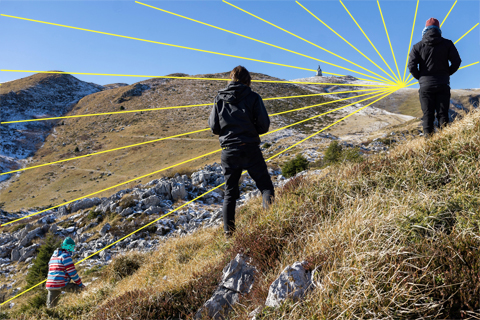 A loudspeaker is carried through a specific path/trail.
A series of both fixed and sweep tones are played back through the loudspeaker at fixed intervals and predetermined dynamics.
A group of listeners position themselves in a specific spot in relation to the path of the loudspeaker and the acoustic/spatial surround.
The listeners perceive the tone in relation to their distance from the loudspeaker.
The tones appears and disappears responding to the topography of the place, the specific path of the loudspeaker and the atmospheric conditions.

The piece has been performed at the mountain festival Alture, ValTrompia, Brescia. For the occasion, a series of long sine sweeps and silences were played back from a loudspeaker that was carried from the malga Pontogna (1384 mt) to the top of the Gölem mountain (1957 mt). The piece/walk was about 50 minutes.