keyword - walking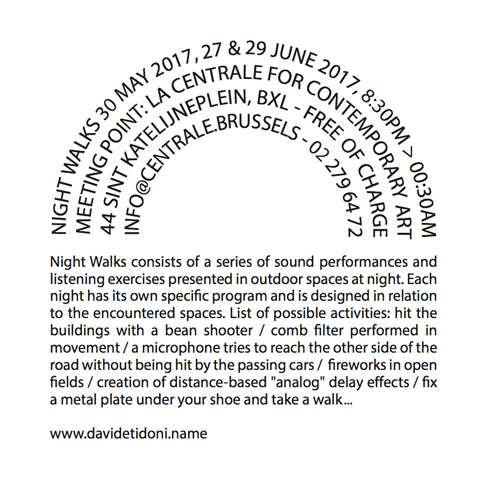 Night Walks was presented at Où sont les sons? Where Are Sounds?
Centrale for Contemporary Arts, Brussels.
Curated by Nicole Gingras.
More about the walks
NIGHT WALKS, BXL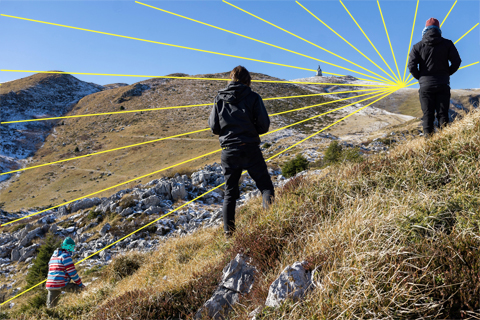 A loudspeaker is carried through a specific path/trail.
A fixed tone is played back through the loudspeaker at fixed intervals and predetermined dynamics.
A group of listeners position themselves in a specific spot in relation to the path of the loudspeaker and the acoustic/spatial surround.
The listeners perceive the tone in relation to their distance from the loudspeaker.
The tone appears and disappears responding to the topography of the place, the specific path of the loudspeaker and the atmospheric conditions.

The piece has been performed at the mountain festival Alture, ValTrompia, Brescia. For the occasion, a series of long sine sweeps and silences were played back from a loudspeaker that was carried from the malga Pontogna (1384 mt) to the top of the Gölem mountain (1957 mt). The piece/walk was about 50 minutes.
SOUNDWALK at CTM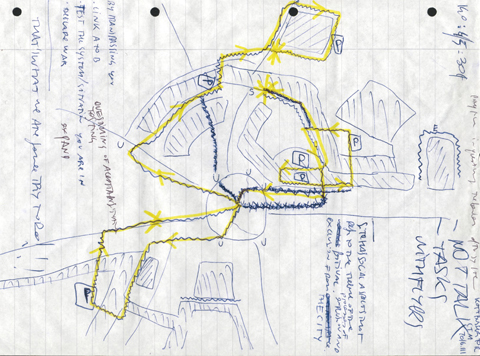 Click on the image above to download the notes that I produced for the walk at CTM in Berlin. The walk was ment to find connections between listening and the topic of the CTM festival New Geographies. The walk took place on the 30th of january 2016 in Kottbusser Tor and was presented to the participants of the SOCCOS RESIDENCY PROGRAM.

DOWNLOAD THE KEYNOTES AND MAP PRODUCED FOR THE WALK
I FOUND MY WAY


In the video, I use my voice as an existential strategy that allows me to survive in a city that I don't recognize as mine. Led by the acoustics of the places that I encounter in my wandering, I end up silent in an empty building. My voice has the double function of 1) making me discovering the acoustic response of the city and 2) sustaining my own presence which is already undermined by the impact with the metropolis.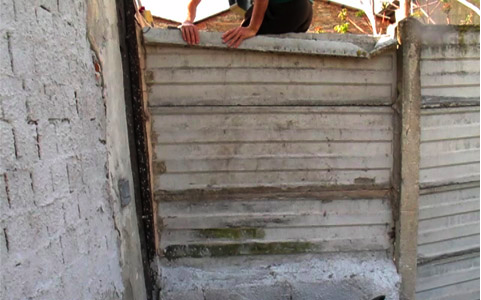 Soundstorming is an exploration walk that invites participants to develop site specific interventions. Echoing the process of brainstorming, the workshop functions as an informal exchange of collective experiment with sound and listening.

Soundstorming begins with a semi-structured walk that interesects a certain area or territory. Participants stop the walk and start working whenever they find a potentially interesting location. The fundamental parameters for choosing where to stop relate to the spatial affordances of the place, its configuration and acoustic quality as well as to the freedom of movement it provides.

Participants bring to the walk their own technical equipment. Everything must be compact and easy to carry around. Bent electronics, small analog/digital sound instruments, sound generators, portable loudspeakers, megaphones, pre-recorded sounds, contact mics, sound playback/recording devices and found objects are some of the tools for developing interventions and situations.

Besides being a direct process for fast prototyping of outdoor interventions, Soundstorming provides a context in which participants acquire emotional and practical experience about some of the most debated issues concerning the notion of place, the role of the context, the definition of private/public, the abandoned, the act of trespassing, the production and reappropriation of space.

DOCUMENTATION
CONCEPTS from the workshop at STEIM, Amsterdam, 2012
IMAGES from the workshops at STEIM, Amsterdam, 2012
VIDEO from the workshop at STEIM, Amsterdam, 2012
VIDEO from the workshop at IMM, Düsseldorf/Köln, 2011