MICROPHONE DOWN THE CHIMNEY
February 11th, 2017
DOCU FROM TSONAMI
February 7th, 2017
DOCU FROM STATE OF THE THINGS
December 24th, 2016
DOCU FROM DANAE
November 16th, 2016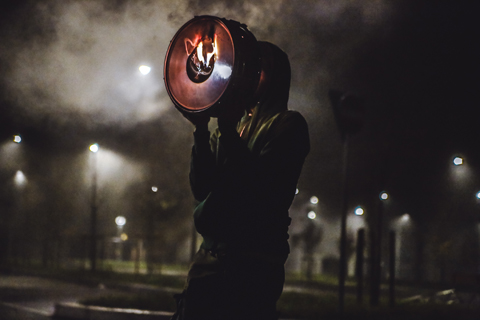 photo: Michela Di Savino
CLICK HERE TO SEE THE FULL DOCU
MORE INFO ABOUT DANAE
FIRE FROM WITHIN – DOCU ONLINE
October 16th, 2016
KOREA INVASION!!!
September 23rd, 2016
> 1 october, live performance at
UGEONGGUK
> 8+9 october, LISTENING/INTERVENTION workshop at
DOTOLIM
> MORE INFO
HERE
> During my stay I will also work with Choi Joonyong on my future audio release that will come out next year on
BALLOON AND NEEDLE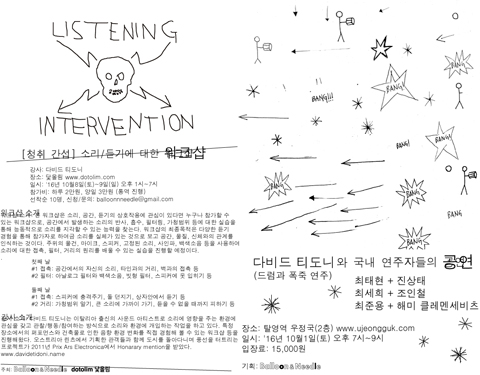 UP IN THE VALLEY 2016 – ONLINE DOCUMENTATION!!!
August 14th, 2016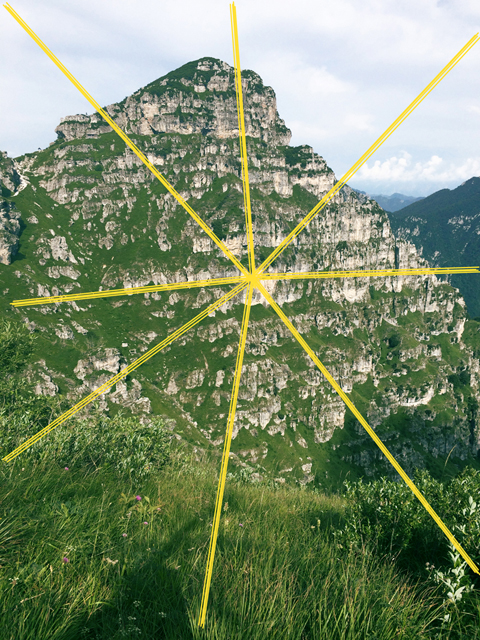 CLICK ON THE IMAGE ABOVE TO SEE THE DOCUMENTATION
MORE INFO ABOUT "UP IN THE VALLEY"
HERE
.
ROUGH DOCU FROM VENICE BY NIGHT, APRIL 2016
March 4th, 2016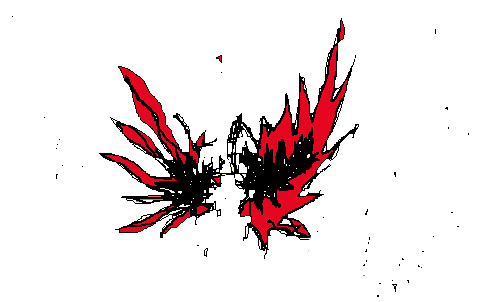 DOWNLOAD THE DESCRIPTION OF ACTIVITIES PRESENTED IN THE WORKSHOP

LISTENING/INTERVENTION IN VENICE AT NIGHT TIME…
…WHEN THE LAGOON IS SILENT


BEYOND THE YELLOW LINE
January 10th, 2016


A microphone moves closer and closer to a passing train and eventually gets hit by it. In this work, the microphone is exposed to the consequences of breaking the (safety) distance limit which usually/conventionally separates it from the sound source.
UNDER THE BRIDGE
December 11th, 2015


Passages under bridges have always been interesting places for acoustic tests. In this video, the resonance of a concrete tunnel is triggered by the explosion of a series of firecrackers.
MAREBELLO BEACH SOUND WALK
August 10th, 2015
SURVEY IN LEICESTER
April 9th, 2015
UP IN THE VALLEY 2014 – ONLINE DOCUMENTATION
April 6th, 2015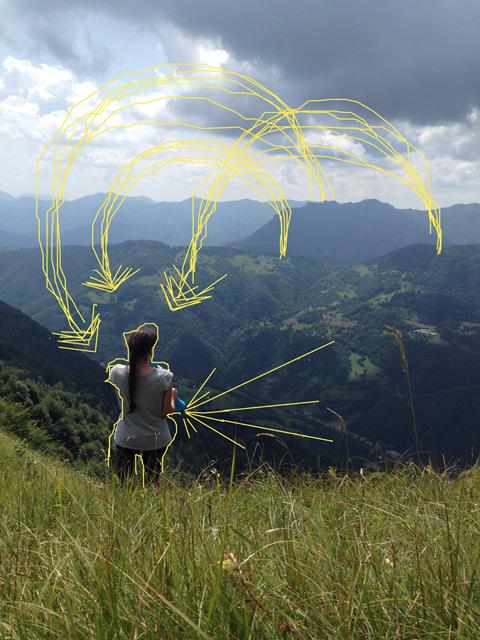 CLICK ON THE IMAGE ABOVE TO SEE MORE IMAGES
MORE INFO ABOUT "UP IN THE VALLEY"
HERE
.
Here I Am
March 12th, 2015


1) The performer is outside with a microphone in his hand.
2) The audience is inside and is listening to the performer from a loudspeaker that is connected to the microphone outside.
3) The performer tries to throw the microphone through the window and reach the inside where the audience is listening.
4) When the microphone enters the inside, the high gain volume (excitement) and the reduced distance (encounter) between microphone and loudspeaker produce an acoustic feedback.
5) In this way, the performer, who is metaphorically embodied in the microphone, finally meets his audience.
The Sound Of White Noise – Workshop at Errant Bodies – Berlin
February 2nd, 2015
The workshop is open to anybody who is concerned with the possibilities of interaction between sound, space, and listening.

The main aim of the workshop is to offer, through direct practice, a wide range of listening experiences in order to lead participants to recognize sound as a concrete presence that puts the listener in relation with other bodies, materials and space.

Practicing different exercises based on sound diffusion and simple movements/gestures, the participants are invited to experience sound effects such as reflection, absorption, filter, threshold… as well as to explore the acoustic interaction between sound, architecture and the body.

White noise is the main material that is used in the workshop. The constant dynamic and frequency spectrum of white noise facilitate an immediate understanding of specific sound effects and provide a stable reference for the articulation of the listener's position in space.

Watch a video extract from a past workshop here: https://www.youtube.com/watch?v=52_f4094wD4.

———————————————————————–
The workshop is structured in 4 different sessions. Each session is 3 hours long. Participants are free to follow as many sessions as they want.

Session 1: 27 may 2015 from 10:00 to 13:00
Session 2: 27 may 2015 from 15:00 to 18:00
Session 3: 28 may 2015 from 10:00 to 13:00
Session 4: 28 may 2015 from 15:00 to 18:00

Address: Errant Bodies /// Kollwitzstrasse 97, 10435 Berlin
Max number of participants: 5
———————————————————————–