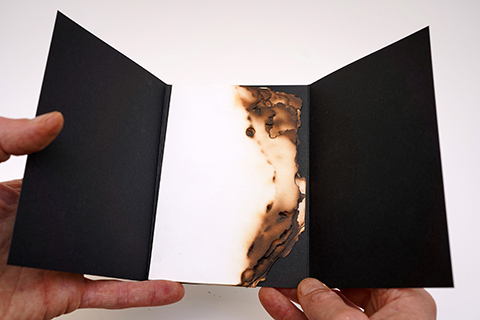 This book is a translation of a series of actions that I conceived and performed as part of the project When Sound Ends.

Primarily intended to be experienced live, the actions and associated artifacts act as witnesses – often silently – to the impermanence and fragility of the body. The presence, absence and loss of sound become a metaphor for the human condition.

This book in turn functions as a sort of remembrance which allows these actions to live on in another medium, in another body.

design: Davide Tidoni
hand-binding: Tatsuya Inuikawa
dimensions: 108×150mm
number of exemplars: 10
year: 2022
orders: write to baitabaita AT riseup DOT net

The book exists in 10 different exemplars, each with a different number of pages. Each exemplar bears unique burn marks.