info
An incendiary mixture consumes the membrane of a loudspeaker, devouring its insides.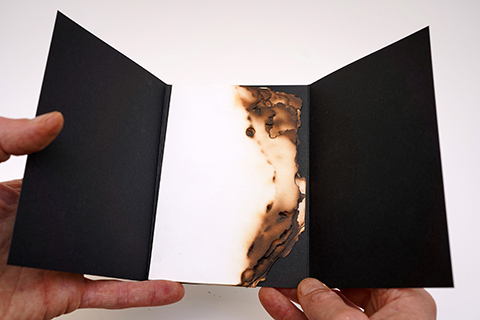 This book is a translation of a series of actions that I conceived and performed as part of the project When Sound Ends.

Primarily intended to be experienced live, the actions and associated artifacts act as witnesses – often silently – to the impermanence and fragility of the body. The presence, absence and loss of sound become a metaphor for the human condition.

This book in turn functions as a sort of remembrance which allows these actions to live on in another medium, in another body.

IMAGES OF THE PUBLICATION

design: Davide Tidoni
hand-binding: Tatsuya Inuikawa
dimensions: 108×150mm
number of exemplars: 10
year: 2022
publisher: self published
cost: 25 EUROS + shipping costs
orders: write to baitabaita AT riseup DOT net

The book exists in 10 different exemplars, each with a different number of pages. Each exemplar bears unique burn marks.
Here
's an essay based on
my field research
with the ultras group Brescia 1911. I co-authored the essay with sociologist L.Pedrini. Unfortunatley it's only available in italian for the moment…
A choreographed sequence of white noise makes audible how sound propagates and interacts in relation to the architecture of the place.
The title of the work refers to the condition of interdependence that permeates all relationships. Streams of white noise become modified in relation to the surrounding physical space which sound encounters as it propagates. As we breathe the air we speak… drawing air inwards into our body and exhaling it outwards from our lungs back into surrounding space.
The performance in the video happened in 2021 but its first versions and research date back to 2014.
Performance: Davide Tidoni
Performed by Abigail Aleksander, Amber Meulenijzer, and Franziska Windisch
Video: Sander Tas with Davide Tidoni
Sound: Davide Tidoni
WE SPEAK THE AIR WE BREATHE – documentation video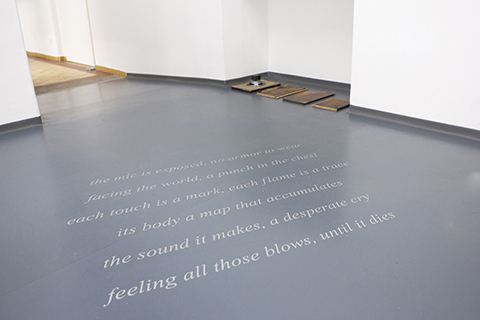 This series of works explores themes of corporeality, in relation to sound production and audition, touch, and loss. The loudspeakers, microphones, enclosures, and membranes presented in this exhibition are in varying states of disrepair; most are no longer capable of producing sound and thus are poignant objects for meditation on impermanence, bodily frailty, and death. Each of these corpses bear visible marks of violence, traces of past collisions and other wounds which emphatetically encourage viewers to visualize this encounter and the consequential loss of capacity.

See more documentation about the overall project: whensoundends.davidetidoni.name/
ATTACK / DECAY – documentation video
Attack/Decay is a night walk where participants are invited to explore the acoustics of specific locations by means of a custom built impulse generator device.
The acoustic qualities and the spatial features of the chosen locations serve as a point of departure for developing site related listening pieces.
Through direct experience, the walk introduces participants to primary acoustic principles and spatial listening, framed as a state of interference and interdependency with the propagation of sound in space.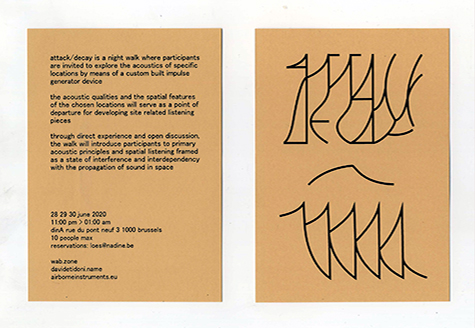 Technical development by Airborne Instruments.
With the support of Nadine, laboratory for contemporary arts and the VGC.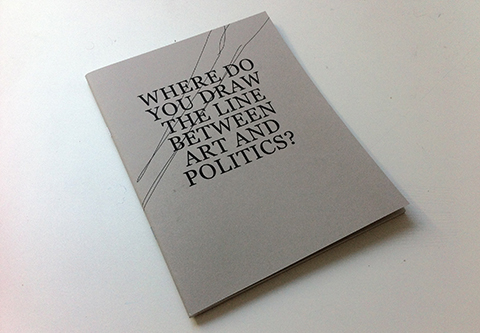 Where Do You Draw the Line Between Art and Politics? consists of a series of interviews with individuals who have been active in various capacities at the intersection of art and politics.

Between historical documentation, political memory, dialogic reflections, and motivational support, the publication focuses on the experiences, commitments, and feelings that animate and inform aesthetic priorities in social spaces both within and outside of art institutions; a repository designed to inspire and encourage the politicization of aesthetics, as opposed to the aestheticization of politics.

The people I interviewed are: Pietro Perotti, a Fiat worker and self-appointed worker communicator; Lucia Farinati, a researcher, activist and independent curator; two anonymous members of a hacker collective working in the field of technology and urban space; Errico Canta Male, a singer-songwriter; and Mario "Schizzo" Frisetti and Luca Bruno, of the Torino Squatters.

READ THE INTRO
IMAGES OF THE PUBLICATION

producer: a.pass in collaboration with nadine
graphic designer: Marzia Dalfini with Davide Tidoni
publisher: a.pass
distributors: a.pass and Compulsive Archive
year: 2021
number of copies: 100
cost: 10/15 EUROS + shipping costs
orders: write to baitabaita AT riseup DOT net